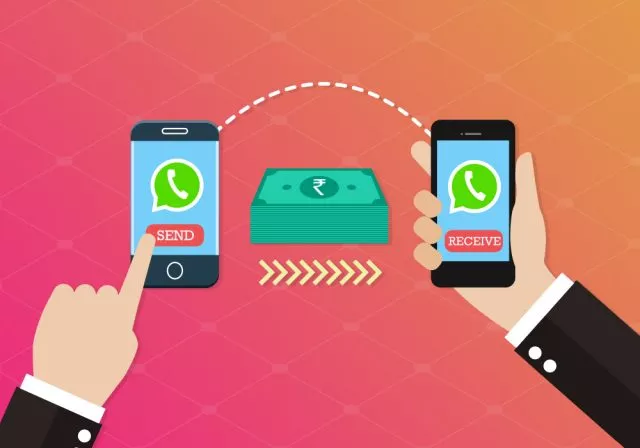 Digital Payments in India: WhatsApp Payments - A Game Changer?
Digital Payments in India got a huge boost when the Government of India announced demonetization in November of 2016.
During, this the Government actively promoted Digital Banking and Payments and reduced several charges and taxes on digital payments and the National Payments Corporation of India (NPCI) launched BHIM (Bharat Interface for Money) app which utilized the in-house payment system UPI (United Payment Interface).

Via Medium
The big gainers of this demonetization move are the Indian digital wallet companies and Paytm experienced a big spike in its monthly transactions and users.
This attracted the Global players towards India and they have started to work on grabbing a piece from the market.
Reserve Bank of India(RBI) did not allow the companies registered outside of India to run wallet services. But, the NPCI's UPI platform came to the rescue of these companies as any company following the guidelines and have a partnership with the UPI participating bank can utilize the UPI platform in its app.
Google entered into this highly lucrative market with the Tez app utilizing the UPI platform, and it gained a lot of attraction, thanks to the big offers on the app.
Via The Hindu
Paytm which also holds a payments bank after seeing the success of Tez integrated UPI into its app.
There are dozens of apps from Banks and third-party players utilizing the UPI platform and they never felt a big competition among them as there are almost the same i.e almost all the apps have same features and similar offers.
But, it changed all of the sudden when WhatsApp started beta testing of UPI on its messenger app. It has got a huge competitive edge over the other apps as it already has a huge user base in the country. so, with the introduction of payments into the app can potentially turn all the users as the users of its payments system.
It is clear from the statements of Founder & CEO of Paytm Vijay Sekhar Sarma that Paytm is feeling the heat:
"Facebook is openly colonizing our payment system and is customizing UPI to their benefit. UPI was built as an India Stack, now some American monopoly arm-twists UPI for customer implementation".
"This is a bigger security threat to the country," He said on the recently rolled out WhatsApp payment feature.
"Here is a championed app, which does not have login and password and money will be transferred directly from your bank account. I do not know what kind of security bomb is allowed to run in this country," he thundered.
"We are opening our banking system to a big possible fraud by giving it a single factor authentication in the hands of 200 million people,"
Speaking about the differences in the treatment meted out to Indian and foreign companies, Sharma said,"We may be the largest UPI bank in the country but we don't have a say here."
He alleged that the NCPI had asked him to delay the launch of Paytm UPI by nearly four months because Google has to launch Google Tez app.
While this going on with Paytm, Kunal Shah founder of Freecharge tweeted that

For this Sarma said that the debate is not about India versus foreign company, He said, "India is an open internet marketplace, where not only Indian companies but international companies are welcomed, invited and are going to be a major player."
It is also interesting to note that while WhatsApp is trying hard to integrate payment service into its app since last year, Paytm launched messaging service on its app called as Paytm Inbox.
If we see both these apps it is clear that they are battling hard to emulate the success of WeChat which successfully integrated payments into its chatting app and became the defacto payment system with 93 percent adoption in Tier 1 and 2 cities.
It is no doubt that WhatsApp as a huge advantage over Paytm in this regard.

Statement by NPCI
At last NPCI broke out its silence on WhatsApp BHIM UPI beta launch and given a statement.It said:
National Payments Corporation of India (NPCI) has been working to facilitate digital payments in the country with globally recognized products like Bharat Interface for Money BHIM – Unified Payments Interface (BHIM UPI). We follow well-defined guidelines for BHIM UPI services with the objective of making our platforms interoperable and based on open standards, convenient and secure, offering multiple choices to consumers for rapid adoption for digital payments through banks and payment ecosystem players.
Currently, NPCI has given its consent to roll out WhatsApp BHIM UPI beta launch with a limited user base of 1 Million and low per transaction limit. Four banks will join the multi-bank BHIM UPI model in phases (in the coming weeks) and full feature product shall be released after the beta test is successful. Multi-bank model offer advantages such as transaction load distribution between banks and helps to integrate popular apps easily with BHIM UPI.
Broad principles for interoperability like
a) Ability to send and receive money through any BHIM UPI ID
b) Intent and collect call and
c) Ability to read and generate BHIM / Bharat QR code is required in final BHIM UPI app.
BHIM UPI enabled app which fulfills such principles only will be permissible for full-scale public launch.
We work towards providing the seamless experience to users of BHIM UPI platform and recognize the contribution of member banks and non-bank entities to reach this level.
Paytm Response
In response to the NPCI statement, a Paytm spokesperson said, "We welcome this statement by NPCI. It addresses the concerns of interoperability violation that we had raised. It also clarifies that the trial has been restricted to 1 million users, though we feel that a product with the stated violations could have been tried out amongst a much smaller base. We are still concerned that this statement is silent on the critical issue of safety/security of a financial transaction through UPI, where consumers need to mandatorily sign-in with username and password. This violation is fundamental and very serious. WhatsApp must implement login and password like all other BHIM UPI apps. This statement is also silent on other issues such as the requirement to send SMS notifications for every UPI transaction. We hope that future rollout will be fully compliant with all the guidelines. We wait to hear NPCI views on some of these missing aspects."
Source :