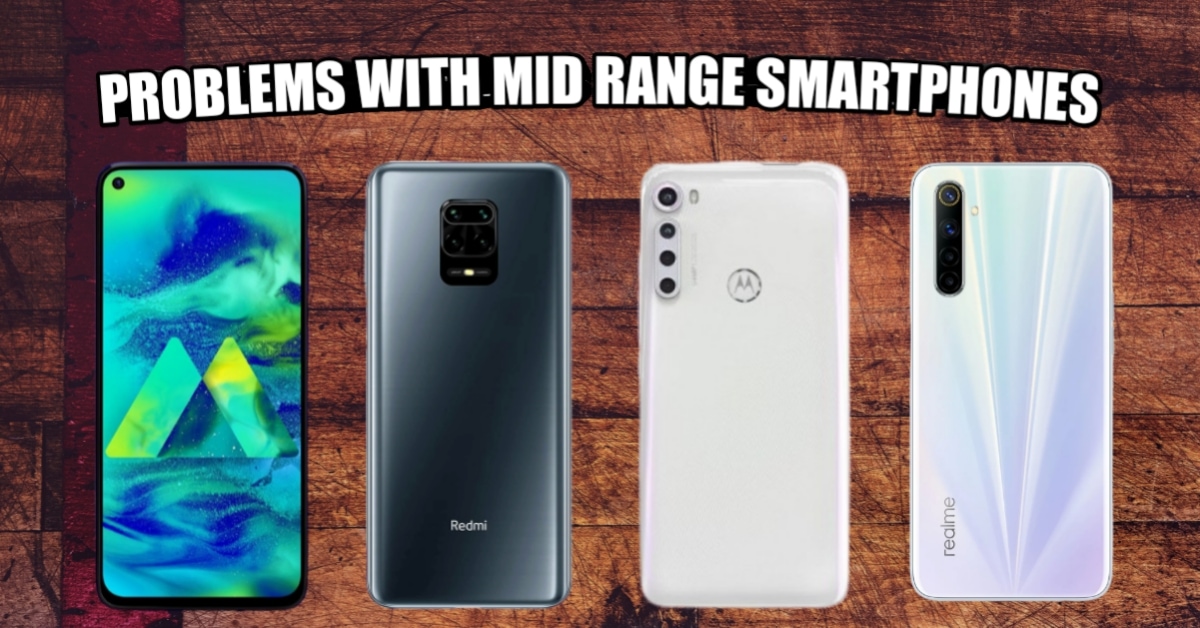 Problems with Midrange Smartphones
Midrange Smartphones
Smartphones are becoming accessible day by day to everyone. Every one of us has a smartphone be it a budget, midrange smartphone, or flagships. Today, it's time to talk about the problems with Midrange Smartphones. It is because Midrange Smartphones are the ones that are most sold and used because of their value and budget restrictions. Smartphone Manufacturers are using this to their advantage for a long time now.  Be it their strategies, marketing, and other tricks which they play upon the consumers. It must be stopped from their end.
Problems with Midrange Smartphones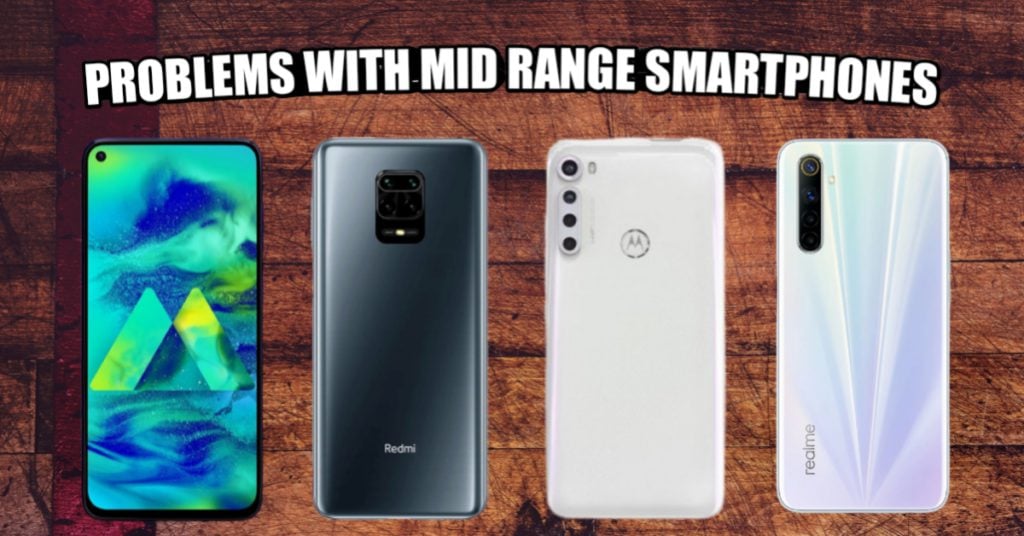 Let us begin with all the problems with midrange smartphones that exist. It's a list and we will go on covering them one by one. This is more in the trend towards the Indian Markets rather than the Western. What's a midrange smartphone? How would you define it? A midrange smartphone is any smartphone that costs around Rs. 15,000 to 28,000. Obviously many of us won't be considering the higher limit, but they do exist.
Bloatware
All these midrange smartphones come out of the box with a lot of unnecessary apps. Be it the system apps or third-party apps. That is a lot of junk that not everyone wants. Surely, these manufacturers would be commissioned to have pre-installed apps. This is why they are doing it in the first place. However, it is fine up to a limit. These days the amount of bloatware is on the rise in terms of system apps from the manufacturers itself. These problems are common on Chinese Smartphone Vendors like Redmi. They include a truckload of system apps.
Camera Count: Buff Up
It is easy to say that rather than the whole specifications race, there is a race of camera counts. Mid-range smartphone manufacturers are like, "Let us bump up the number of cameras rather than the actual quality of each camera." Let me tell you guys. Out of all the Quad-Camera Setups, just 1 or 2 cameras are average. Rest all lens are utter garbage. The Wide Angle Camera is practically good but less in MP so doesn't perform well. The Depth camera is for namesake, as depth blurring can be done with software algorithms as well. The Macro camera is also unnecessary and at times the rear camera would give you a better macro. These things have become a major problems in the Midrange smartphones
If you ask us, which Camera lenses must be included in the smartphone, we would say. The first is the Main Rear Camera followed by a higher MP count Wide Angle Lens and the last one shall be a Telephoto lens. The telephoto lens is literally going extinct whereas it's the most needed. We can literally insert a meme here.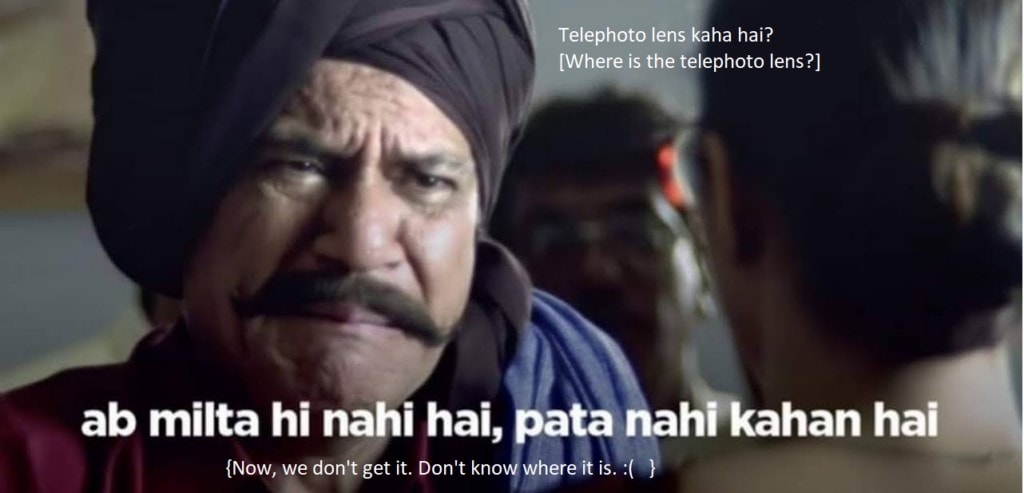 le Telephoto lens on Midrange Smartphones be like
Fishy Ads
Many smartphone manufacturers have been started to put Ads on their user-interface. We all know who are those manufacturers. It's Redmi & Realme. Yeah, the number of ads can be controlled or turned off from the settings. But, not all midrange smartphone users are that tech-savvy. There are a lot of options under settings that need to be toggled and difficult to do so. We must say, this is the biggest problem in midrange smartphones.
Flash Sales
This is something that has been going on for a long time. A new smartphone is about to launch, and these smartphone vendors create hype over it. Yeah, the hype is good to get customers interested in their products. But, what's next? When there is an actual customer who wants to get the product, he is stuck in flash sales. Come on, we all know how hard it is to get a product in the flash sales. Thereby, the customer might buy some other smartphone that doesn't have such buying restrictions.
Meanwhile, here are our ideas for your Rakshbandhan Gifts!
Less Available Units of Lower Variants
Claps to these Smartphone manufacturers for this strategy. This is yet another of the few big problems in the mid range smartphones. What they do is, when a smartphone launches they keep a relatively lower number of units for the lower variants. What happens due to this? Let me break it down to you. So, due to fewer SKUs in stock, they sell out easily. Also, lower variants are easy to sell out because of the lower pricing.
They take this as an advantage. Once the lower SKUs are out of stock, what are we left with? You guessed it right: Buying the higher variants for a higher price. We all know how turbulent we are to get a new smartphone. An out of stock SKU takes forever to come back in stock. But, what made you interested in the first place? It was the low price and hype with marketing that lead you to get this phone. In the end, you are getting tricked into buying a higher variant and thereby paying more even when you don't want to. This trick ends up creating a lot of problems for midrange smartphones
With this, we can basically conclude that the lower variant is just for marketing the cheap price and not be actually sold. This is one of the most problematic strategies that lead to a major problem in Midrange smartphones.
Launching Similar Devices
Okay, we all know this. There this Pro device, then this Pro Max and the naming scheme goes on. Within a couple of months, these midrange smartphone manufacturers are back with yet another device. And guess what are the changes? Hardly a few changes. Why? Let me answer it from the brand's side. "This is done to save costs on Research & Development. Also, they don't need to optimize the updates/UX much due to less change. When the product is similar, the same parts from the older devices can be used which are bought in bulk qualities for cheap."
Rather than launching a couple of months every now and then, these midrange smartphone brands should focus on bringing one great product to the table for the consumers. After all, midrange smartphone users won't be upgrading their phones every now and then. These companies create these problems in the first place and sell the solutions for them later on.
Launching for less price followed by price hikes
This strategy has become so common for midrange smartphone brands. First, the company launches the device at X price which is very less. Due to this, it gains a lot of positive media attention. Eventually, the product gets hyped. The first impressions from the reviewers become very good. But then, the brands start hiking up the prices.
Yes, there are few legit reasons such as the GST % rise in India. But the rise of a few hundred is fine as per the calculations. Anything more than that is for looting the customers. This was the problem in midrange smartphones for almost all brands including Motorola, Readme, Realme, Samsung. More Explanation here.
Accessories
It has been a long time since manufacturers have stopped including headphones in the box. But, now the headphone jack has also been removed. Many of the midrange smartphone users who have upgraded their devices might still be stuck with wired earphones. It is really necessary that they should include USB to 3.5mm Jack Converter in the box. And please, add a notification light if there is no feature of Always-ON Display.
Thus, these are all of the problems we found with midrange smartphones. Surely, we are getting a lot of features for the price. But as a result of this, midrange smartphones have become a race of specifications. And when there is a race of specifications in such tight budget phones, the user experience gets compromised. What would you prefer any day to tell me? A clean user-interface which is great with a bit of sacrifice on internals or a user-interface filled with ads. After all, its the day-to-day user experience that matters.
We really hope that these smartphone manufacturers pay heed to these problems. It is indeed high time that they fix it.