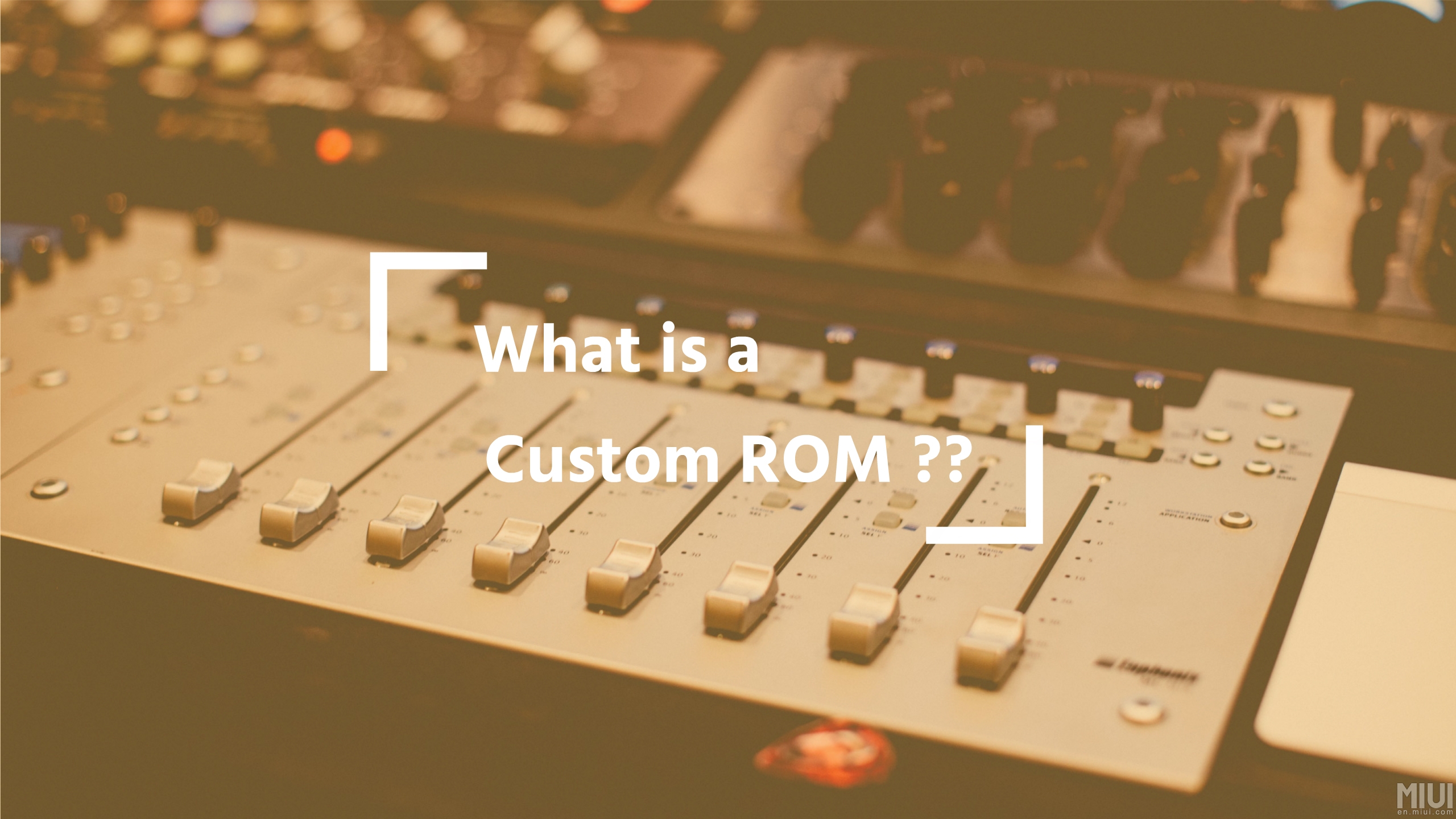 All you need to Know About Custom ROMs!
Introduction to Custom ROMs
What is a custom Android ROM actually? A custom Android ROM refers to a phone's firmware, based on Google's Android platform. Android is an open source project so any developer can take the code and can edit it customize/modify according to his likes, the way you want, with many other add-ons, improvements and features etc, then recompile it, and re-release it for a wide variety of devices. Users can install ROMs to change a device's appearance and behavior. ROMs are developed by the Android community, and by a group of core developers who do this purely out of the passion for modding. This means that most are completely free and Custom ROMs are available for phones, tablets devices which are running on Android.
In my experience, custom ROMs are just as stable if not more than OEM supplied ROMs, depending on the ROM, of course, you have to bear with the bugs whether minor or major if you find, or you can report the bug to the developer for fixing it. Android Tablets and Smartphones use this ROM to store the operating system (OS). But, in general discussions and in the course of this article ROM refers to a custom built OS.ROM has generally referred nothing but you can say it is your Phone's Whole Software (Software which contains all the default/factory settings, apps, data, etc..). Stock ROM can provide the user information but you can't customize or make changes on it until you install a Custom ROM or Root It.
You might have come across the word Firmware which refers to
"The applications and operating system that control how a cell phone or Smartphone operates. It is called firmware rather than software to highlight that it is very closely tied to the particular hardware components of a device" Following Custom Roms are very popular for Android devices:
AOSP
LineageOs
Pixel Experience
Resurrection Remix
Mokee
Now let's see each Custom ROM briefly one by one. Note: There are more than tons of Custom Roms which are available. These are just a few of them. You are seing only the top of an Ice Berg.
AOSP is an Android open source project, and it refers to unmodified ROMs and codes from Google. The name custom ROMs that are very close to the original AOSP, since these ROMs still need to be customized. The name ROMs that don't have a custom launcher or many of the other modifications carriers make with Sense, TouchWiz, MIUI etc, although they may still be themed from AOSP base. A more accurate name for plain and mostly-unaltered ROMs for non-Google devices is probably "Vanilla ROMs". And the interface would be changing from Android version to version.
LineageOS is a free, community built, aftermarket firmware distribution of Android, which is designed to increase performance and reliability over stock Android for your device. It has a very basic customization settings inbuilt like status bar settings which we can change clock position and battery icon style etc, and we have buttons settings also where we can change the action of the buttons either we can use on-screen keys. LineageOs have excellent performance experience in day to day life. It is based on the Android Open Source Project with extra contributions from many people within the Android community. It can be used without any need to have any Google application installed.
Pixel experience roms are made with all Google experience including all google apps with excellent boot animation, and lot more customization, an excellent feature in Pixel Roms is 3D touch we can get some options for apps when we long press them for 1 or 2 seconds for example instead of opening the contact app and create contact we can long press on contact app and we will get create contact option. Another awesome and fantastic feature is google assistant, this feature was really a great invention for Android devices, which we can ask anything we want without touching the device google assistant will give an answer and we can give commands for some simple tasks like a call to the person or set alarm and create event etc. For now, google assistant works for almost all of the devices, we can have a whole new experience with Pixel Roms with all new interface and launcher to make a way for pixel experience in your devices.
Resurrection Remix ROM is ultimately full-featured, stable and combined with the best features of open source roms. We can get a lot of awesome original Resurrection Remix ROM add-ons in it, including best in the performance, customization, power and the newest features on your device! Even though with so many customization and features available in this ROM. The ROM is very battery-friendly, It is one of the most customizable ROMs out there! Each and every part of Resurrection Remix ROM is open source and nighty build updates are available. Everyone can contribute towards its development let's rock and roll.
MoKee OpenSource is based on the Google AOSP. they will update their source code frequently to keep up with the latest development, and not forgetting to include special features at the same time. A small group of people from around the world who are interested in Android launched this project on the 12th of December 2012, and all are committed to making this ROM better and better. Like most contributors to open source projects (Omini, LineageOs, Slim AOSPA etc), they are doing all these in free time as their passion. At the same time, we can have some basic customization in this Mokee Roms like status bar settings and button settings, last but not least Mokee provides daily nightly updates for the devices which are having current development.
Advantages of Custom ROM
Your CHOICE!-- Depending on the development of your device you are free to choose from tons of ROMs according to your Choice right from AOSP to LineageOs, Resurrection Remix to Xiaomi's MIUI etc and so on.
Bug Fixes and Updates– ROM Developers generally provide timely Updates and Bug Fixes if they are Active Developers in turn along with the user's interaction with them for Feedbacks.
Underclocking and Overclocking -- Certain Custom ROMs allow the Underclocking and Overclocking which helps for increasing Battery Life and Device's Performance respectively.
Customization-- Tons of customization is available in Custom ROMs as per your need to make a way for a different kind of look for your beloved Custom Rom.
Disadvantages of Custom ROM
Buggy ROM at times – The lack of Testers for a particular Device can result in a buggy and un-optimized ROMs at first which can be disappointing if you are fresher.
Loss/Bricking of Phone– At times the files can get corrupted while downloading or some issues while flashing can lead to loss of Data along with Bricking of the phone which can be fixed but at times be difficult.
Unlocked Bootloader – To Install a Custom ROM you need to unlock your device bootloader by official way method if available.
Official Support– There is no Official Support for a Custom ROM from Carrier, Vendor as well as the Manufacturer. So you need to be careful and responsible.
FAQs
Now since you know about Custom ROM's, so a question would Pop-up in your head asking
Should I root my phone and install a Custom ROM or stay on the Official one?                       Ans: Think about what you do on your phone: Are you able to do everything on your phone easily? Do you care about your warranty? Do you want to take the risk? Let's see what u guys got in your mind is it Yes or No.
If you get the answers is – Yes. I can do what I want with my phone easily and worried about warranty, don't want to take a risk and be in a danger then I would say be on Stock ROM and enjoy the Stock Features. The Choice is Yours!
If you get the answers is – No. I can't do what I want with my phone easily along with no worries about your warranty. Ready for a risk and consequences that you may get in future. You can install a Custom ROM and make your decision like a Free Bird! The Choice is Yours!
2. How to Choose a Right Custom ROM?
Ans: If you decided to install a Custom ROM on your Phone you might be wondering - Which ROM should I choose from the tons of ROM available?? My advice to you would be that Read the Reviews and Feedbacks of the users of the Same ROM for the Same Device. A ROM would be great on a particular device but not the same on the other device. Go over the ROM release post, read the features and decide yourself. The Most Popular Developer Community is on XDA you can check out there for the same.
Thanks for reading! I hope now you understood fully 'what is a Custom ROM'. Good luck with making your decision!